Welcome!

Jyga Technologies innovates continuously in order to conceive state-of-the-art technologies allowing your farm to be ONE OF THE MOST PRODUCTIVE.
Jyga Technologies' professional team has deep knowledge in lactating sows feeding management. The Gestal system will allow you to reach the maximal potential of your sows, with minimal man-power. Our decade-long experience from research and observations allows us to develop efficient solutions to improve lactating sow feed intake and therefore offering you unique and competitive products.
The multidisciplinary team of the company is in constant R&D process. It benefits from an important research farm, with more than 2000 sows finishing over
60 000 hogs annually in Canada.
Jyga Technologies' plant allows the company to market unique management tools to optimize pork producer's talent, productivity and financial income.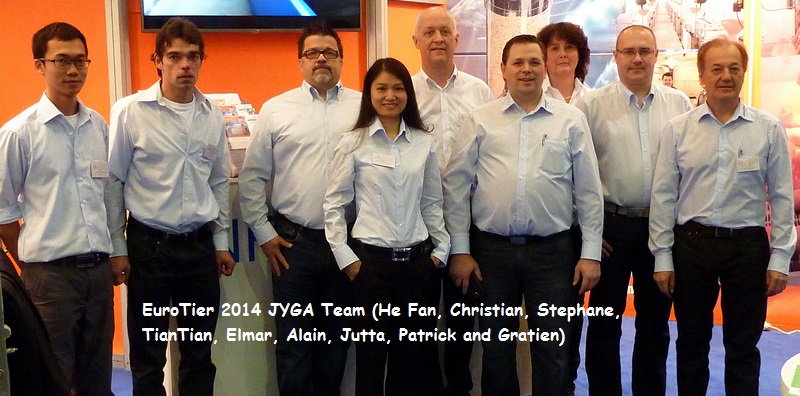 JYGA Tech Europe GmbH – JYGA subsidiary company in Europe since 2014

JYGA Tech Europe GmbH was founded on 1st of March 2014. With being located in Vechta, it allows the company to market unique management tools in Western and Eastern Europe.
The office in Vechta will organize the expansion of the sales structures for entire European market.
An appropriate storage with equipment and spare parts has also been established in order to supply distributors and customers immediately.
In addition, a corresponding service has been established for our distributors and customers.
Besides the service staff, which is always available for advice and assistance, we also provide a 24 hour service line.
Furthermore, appropriate training for distributors and customers is also being offered.
Therefore, JYGA Tech Europe can satisfy the demands of distributors, customers and the growing market.